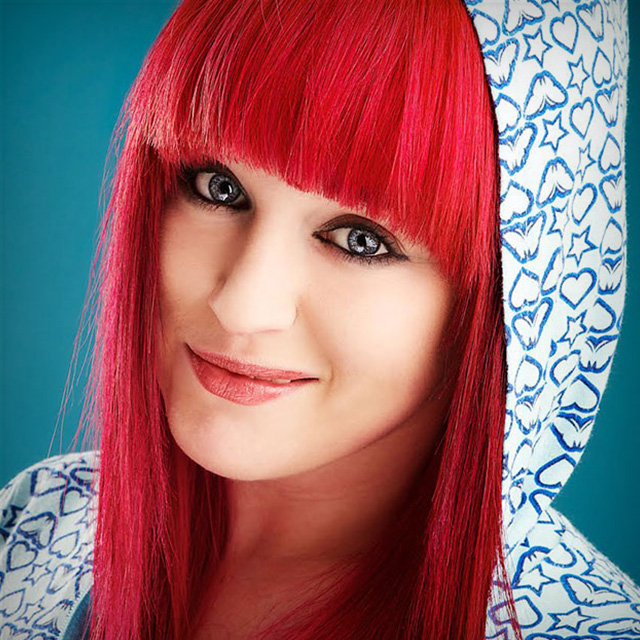 The Inspirational Interview with Professional Dog Photographer Kaylee Greer
Lesson 1: On Getting Started
Published: December 2015
with Kaylee Greer
About Course
Join Mia McCormick and Kaylee Greer as they sit down to discuss Kaylee's fast and fabulous rise as a commercial pet photographer. Kaylee's passion for dogs is contagious, and her energy, love, and compassion for dogs just radiates from her work. Her unique approach to dog photography has resulted in growing list of commercial clients and her pet portrait calendar is booked out a year in advance. Over the course of this hour Mia and Kaylee discuss how she got her start, where she gets her inspiration (hint, the dogs), how she creates much of her signature look in-camera, and so much more!

DISCUSS

Have a question or comment about this course? Join the conversation today!

Discuss this Course

No materials available for this course

[BLANK_AUDIO]

Hi every one, I'm Mia McCormick and today I'm excited

to introduce one amazing pet photographer.

Kaylee Greer has a really unique style.

Its fresh and it fits her bubbly personality perfectly.

Her images have created quite a stir in the animal world.

And in just a few short years she's booked some major commercial

clients and filled up her shooting calendar up to a year in advance.

Today we're gonna talk about what inspires her images,

and how she's

built such an incredible following in such a short time,

welcome

Kaylee. >> Thank you so much.

I am so excited to be here.

Holy bananas, it's super exciting and I'm so appreciative to you

guys for having me.

>> Well we're happy to have you here because you just blog for Scott.

And he was like huge! It blew up.

People loved it.

And everybody was submitting their images.

This is my dog, this is my dog, this is my dog.

You know or pet or whatever.

And they were like look at here, look at here.

And you went and then commented on every one which I thought was

really awesome.

>> [SOUND] Thank you.

Yeah.

I absolutely love to interact with people and talk to them about

their animals.

I mean, I'm a crazy dog

lady.

I live and breathe dogs.

That's my favorite thing in the world.

So if somebody wants to share their image with me it gets me so excited.

I love to look at, you know,

what they are doing and what they're

up to and kind of, you know.

Help out a little bit if people are interested in having a critique

or sharing wanna work with me.

So that was really exciting.

To get to do that.

I was so grateful for that opportunity

and to be able to post something on Scott's blog.

>> Well what I'm struck by looking at your work,

and I follow you

on social media a bit too.

Is your energy, you have this very positive fresh energy and you've

somehow funneled that energy into your images

which is kind of

a really hard thing to do.

I mean your images match what you see in person perfectly.

>> [LAUGH] Thank you so much, that means so much,

to me, yeah I feel

a certain way when I look at dogs I sense their joy and they're

just joie de vivre for life and I just feed off of that I think and

I'm so truly incredibly passionate about what I do that I guess

that sort of translates into just my general happiness.

So just grateful to be where I am,

so I appreciate that I love bright

colors obviously and I like to make that come through in my work so

yeah I appreciate that.

>> So you started out actually here in Tampa in

the University

of Tampa, studying visual arts and communication and when did,

photography kinda make its way in?

>> Photography I took a couple of photography course as part of

my visual arts curriculum and I was doing all kinds of different

things, there was all different kinds of classes,

marketing and

art and drawing and something that I'm not proficient in at all

but it was interesting to explore all these different kind of arenas

individual arts curriculum. But when I took photography it was something

that was definitely really special to me,

it really clicked, that's

funny no pun intended at all. >> [LAUGH] >>

But it's funny because it wasn't terribly good at it necessarily

and I also never thought while I enjoyed it I never thought in

about a gazillion years,

that I would actually become a photographer professionally it was

a just a few classes and it really turned me on to the idea of

it but I was working in film in college and I was a broke college

student, and it's really quite expensive to shoot film and buy

the paper, and the film and the camera I had to borrow off of a

family member just for the classes because I couldn't

actually afford to go by myself

a 35mm camera.

So I enjoyed those classes beyond anything but when I put the camera

down at the end of them I thought,

okay now, new adventures, now

other things.

So-

>> So what were you shooting in the beginning,

I mean just like

anything that you could?

>> Yeah kind of I was definitely unfocused and sort of searching

around for what was gonna be you know the thing that moved me.

And I would say I was shooting a lot of probably landscape type

of stuff, truly whatever I could point my camera at,

some maybe

fashion type of stuff,

not anything sophisticated.

By any means but just finding friends that would be willing to model

for me, that kind of thing.

And again I like it,

but it wasn't until I turned my camera towards

my dog.

At that time I had this rescued pitbull,

his name is Tobby, and

he's actually the reason behind Dog Breathe Photography.

He's the breathe behind Dog Breathe Photography,

I like to say.

He had terrible breath that sweet sweet dog.

>> [LAUGH]

>> Terrible breath.

And so he was the inspiration.

But I turned my camera towards him,

just because he was always there

and he was this little source of joy and light,

and he was always

at my feet, and so once I pointed the camera towards him,

I thought,

well there's really something here, there's something here that moves me and makes me, inspires

me and again that was sort of it though,

I just doubled in it a

little bit in college and then after college just sort of went

a different way.

So photography came a little bit later than college for me.

>> Really so then at what point did you turn back what did you do

when you left photography? >>

So I was actually in a band so I have always been a bit of a kind

of an artist a bit of free spirit, my poor mom she has always been

like so like oh my God what are you are you gonna ever do in life

Kaylee Greer because I would always float around to this and that

and just sort of live in that moment and fly by the seat of my

pants sort of thing.

And after college I was in this band and we were kind of just

doing like small shows around here in Florida and so we were kind

of just wheeling along and I had that part time job I worked for

actually at an art gallery for quite a while which was really cool

and I managed that for a couple of years and then after that,

I

decided to move away from Florida and moved back to Boston where

I am now.

And then I started to work for Apple actually.

And I loved the idea of Apple,

because I loved that they embrace individuality

and I could be myself and I could have this wacky hair and just kind

of be authentic to who I was.

So I started to work there

and it as a brilliant learning experience and a really amazing company

with a really amazing ethos about what they do and and

how they do it and why they do it.

And everything is passion driven and fueled.

It was a really incredible learning experience and not only that,

not only their message and their philosophies,

but also the way

that they treat customers was an incredibly

important learning experience for me cuz to then go on later

to start my own business and know this level of customer service

and this level of expectation that people have and the way that

they wanna be treated.

I feel like I learned a lot from Apple.

But ideally Apple wasn't as much as I enjoyed it I knew

that that wasn't the thing that moved me.

It wasn't the thing that like set my soul on fire.

I would go there and do my job and I would be super happy doing

it, but then when I went home I wouldn't feel fulfilled.

I knew that this wasn't what I was meant to be doing for ever.

While I loved it my passion wasn't in computers and technology necessarily.

Now

technology is a huge part of what I do today,

and it's a huge player

in my business and I use editing software obviously.

And I use an Apple computer and

Apple devices run my business and

I think a lot of creatives businesses.

It definitely wasn't the thing that was going to change me or help

me make

I guess my mark on the world.

>> So then what happened,

was there a catalyst or something that

kind of flipped the switch? Where,

like there's this giant Kazaam

in this story where you're working for hours and all of a sudden

you are doing images like this.

And you're booked up.

So what happened fill it.

Fill that gap.

>> So I've always been-

to start right back at the beginning.

I think, people ask me sometimes what came first,

your love of photography

or your love of dogs.

And it was definitely always dogs.

Dogs came first.

They make me feel, it's hard for me to put it into words but when

I see a dog on the street,

I just get so excited, that I feel like I

wanna cry.

[LAUGH]

Look at them and I'm like,

oh God, they bring me so much

happiness.

Or if you see a dog in an area where maybe dogs aren't typically,

like in the airport.

It's kind of like people shuffling around everywhere.

Then all of a sudden this little joyful presence of a little dog.

It just makes me so happy.

And that's the way that I've always been,

ever since I was a little

kid.

I would like run flailing across the street to meet any dog

that would be walking by.

And it's always sort of been that way and I sort of always knew

that I wanted to work with animals in some capacity.

I think the big catalyst is that I met Sam whose my partner in life,

and he's also my partner in business and he is this unbelievable

photographer.

And so I think between him and I where he said Kaylee I know

you are so totally head over heels and passionate for animals and

you're also really good at this photography thing.

You have a knack and like I said I've always been a bit of a

dreamer so I thought why couldn't I photographed animals and then

kind of most specifically dogs because I think

there's a bit of market for that in a sense that dogs are such

a huge part of people's lives.

>> Yeah.

>> Yeah they're these little parts of their family really,

and I know

that if the people that I get to work with love their dogs the

same way that I love my dog it's like that's brilliant,

that's I know the feeling and I know how valuable it is to them to capture

those little tiny moments.

Cuz I think the shame of it all is the dog's lives are criminally

short, and so to preserve those memories while they're still here,

while they're still active and full of life and spirit I think

that's kind of where the idea I was born.

Wouldn't people want to capture these moments I mean they capture

their children and their families and their weddings,

and all those

kinda events that are important to them in their lives.

And dogs are super important not to everybody but to some people

and I mean some people laugh when they hear what I do and I understand

you know what I mean they're like oh my goodness

you're a dog photographer how silly and I think when they hear

that if haven't seen my work they probably think of dogs in baskets

in front of back drops and-

>> You think like the portrait work

that you take your kids to the studio at the mall,

and they sit

them down in front of the background and they go

[SOUND]

and you get that picture that you just like okay I'm gonna put this

on the wall but it's really not my kid sitting there.

And that's so they just kinda filter that down and do the same thing

to their dog.

>> Yeah, yeah I think so and I think maybe the appeal of it is that

I tried to steer my work in a direction that was quite different

than what was being done when I came to pet photography there wasn't

a lot out there, but there was definitely- and I mean I did my research

cuz I was like oh my gosh could I ever really make a living at

this?

This is crazy pants, but I'm not one to be a planner or to really worry

too much about the future.

And I think that's why this business works for me because I never

know what's coming and I'm totally okay with that.

I feed off of that I think

but I research to make sure that this was like a feasible idea.

>> It was like a thing that's really a thing photographer.

>> Yeah, exactly.

Is anybody actually doing this?

And yeah, after some research they weren't many,

but I uncovered

a number of very successful pet photographers.

I mean you even think back to William Wegman who does his Weimaraners,

I don't know if you have ever seen his-

>> I had the calendars as

a kid.

>> Yeah, it's gorgeous,

I mean that's something that he was really

sort of a frontier person in this industry I think.

Because there weren't too many and there is not still too,

too many

pet photographers.

>> Right, and I'm thinking of his images and how vastly different

they are from what you do.

>> Yeah, totally.

Yeah, I think that my approach to it was that I want these photos

to represent how I feel when I look at the dog,

the kind of joy

that I feel and the kind of like spirit that it gives me

when look at them.

And then also I just feel like personally,

that dogs belong in the natural world,

they were made for the

natural world.

They were

the descendants of primal wolves and they lived and existed in the

outdoors, and so while I loved the idea of my dog crawled up in

my couch under a blanket,

that's a super domesticated version of him

but I love and it's silly for me to say that because I photograph

some of these dogs in like sweaters and silly costumes and stuff.

>> [LAUGH] >>

But

I like to take them out on location and capture the natural

world behind them.

And there's so much beauty in this world.

And I know that probably sounds a little cliche and silly but I'm

amazed by it everyday.

The sunsets that happen and just the light.

And when the light hits certain things.

And to add a dog into that is like the most magical

thing in the world to me.

In fact I can't get away from it.

If I'm like on vacation and I'm driving down on a side road.

I'm like beautiful light,

oh my God it's incredible.

Pull over pull over.

Find a puppy find a puppy.

>>

[LAUGH]>> Anyone.

Anyone walking down the street I can demonstrate with their dog and I'm like,

do you

mind if I just real

quick >>

[LAUGH]

>> It's very strange.

It's so

funny.

I can't get away from it.

But I love that.

>> Some other things that I noticed is that the background of your images

play almost just as much a part of it as the actual animal.

>> Yeah.

>> That you have in there.

>> Yeah.

Location is incredibly important and I have clients sometimes that

don't place as much emphasis on location and when they go to book

their shoot they might say like,

hey let's do it in my backyard and it's hard

to make them understand from a photographer's eye and stand point.

And to really steer them towards a beach or a forest or something

like really magical and special.

Because I think you get what you give.

You really have to

put yourself out there, and climb the highest

mountain or dive into the lake with the dogs or whatever it is.

It's not always easy.

I mean it's certainly not easy.

But finding these spots and having these dogs kind of sitting

there juxtaposed with the nature behind them is my favorite thing.

It's like an addiction.

>> It's such a good and unique approach to this because a

lot of times people say it's just a dog.

I mean,

And you're just photographing your dog,

of course you can just do

it in the backyard.

It's just a dog but you kinda take it like no.

It's a lot more than that,

in order to get this level, in order

to get something that looks like this,

it's like have you seen

my work?

>> I don't shoot dogs in backyards.

>> [LAUGH]

>> The dogs, there's so much soul and character and individuality

in every dog.

They are all so different.

Some of them have big huge personalities and you wanna pair that

up with something that really compliments that,

really colorful,

epic sunsets, that sort of thing,

there's these other dogs

that are a little bit more maybe graceful and refined and

so you wanna find something that compliments that and then

you can play with the colors of their coats and kinda make a

mattress scene, or maybe oppositely,

kind of stick them in a scene where

they really stand out.

>> So wait, so then how do you figure the dogs out? Cuz I imagine

sometimes you might know the dog and you get to second time with

it but sometimes you can't be spending more than an hour or two

with these animals right?

>> Yeah that's really

good point.

Typically the shoots,

my private client shoots are two to three

hours typically.

I don't always know a lot about the dog before hand,

I do have them

fill out a questionnaire that lets me a little bit more so it tells

me like what color the dog is,

it tells me the breed, it tells

me the age and the general energy level and kind of I was once

know about the dog's favorite things like what's your dog's

favorite treat, does he go crazy for tennis balls,

does he go koo

koo for squeaky animals or squeaky toys kind of stuffed animals

that sort of thing.

It helps me cater the shoot a little bit towards the dog's personality

and also the client,

of course ultimately you're shooting for the

client and you wanna make sure that they absolutely love it they

wanna hang it in their home or if it's a commercial client

you want their ad campaign to be incredibly successful.

So I pick occasions with a lot of thought,

I put a lot of thought

and energy into locations but I have to say,

sometimes you get there

and sometimes it doesn't work,

you know, sometimes it's not as

great as you think it's gonna be and then you've just gotta work

with what

you got.

>> And you come pretty prepared for that right?

I think I saw, you had a photo of your treat bag

of Scott's blog

that was so cool.

So what do you put in this?

What do you bring with you?

>> So many things, it's unbelievable.

The things that I get to write off as a dog photographer for my

taxes is hilarious.

>> [LAUGH]

>> It's so funny, and it brings the stuff in bags to

my accountant and everything is squeaky and jingling and jangling

and peanut butter is falling out,

and I'm like can I write this

stuff off?

>> [LAUGH]

>> And he's like, oh yeah,

everything.

It's silly, it's so funny.

But yes in the bag there are all kinds of things.

But I have a lot of really good noise makers and it's similar

to children I guess in a way.

Dogs they speak in a bit of a different language and you can't of

course just be like,

hey Fido, look at me.

Check it out, look right here.

Let me click your perfect snap and done.

It's so much more complicated than that of course.

And in order to draw expression from them,

there are certain things

that I have.

So noisemakers are a big one and when I say noisemakers that includes

things like gazzoos.

Anything that makes a super cool and unique sound.

My voice is a really good one I use.

I'll bark at them, or kind of meow at them.

Also I have my dog so kindly excavates all kinds of squeakers from

his toys for me.

He rips them apart and takes the squeakers out and has the best

time was like the carcass of this toy.

And then I'll take all the good stuff off of the inside which is

like the squeaker and they have all kinds of different weird noise

makers inside of these toys that they sell.

So I'll take those out,

so I have lots of just squeakers and I have

a duck call which is pretty cool.

>>

[LAUGH]

>> It was actually super hard and heart breaking for

me to buy this because I had to go to this hunting store.

And I'm like so adverse to that stuff,

I'm like oh God all these

cute animals and I love them all and I don't want anything bad

to happen to anything.

But I'm in there with all these hunting gear and I pick up my duck

calls at this place.

>> [LAUGH] >> And because of course that's what they use unfortunately

it's for hunting ducks.

Or they have all kinds of things,

rabbit calls and all kinds of things.

But the duck call makes this really strange sound,

and you can kind

of even exchange the sound a little bit with like your hands it's

a bit of a musical instrument.

And so that's cool because a lot of dogs have never really heard

that, quite that sound before.

So you get this fabulous like head tilt from them.

Dogs have this way of listening.

They're trying to listen to what you have to say.

They're amazing creatures that really have attuned to themselves

and adapted to the way we work.

So they live in our lives a lot of the time and they're domesticated.

So they are listening for things.

And I think they say.

I don't think it's actually known 100% scientifically exactly why

dogs head tilt.

But I believe the general idea is that they're listening for something

that's really important to them.

And so some dogs have a trigger word.

So if you have a dog,

if you say, you want a treat?

Or you wanna go for a ride in the car?

You wanna go out?

Or whatever.

You get a little bit of an expression,

because that's something

that's joyful to them

and positive.

So they're listening for that really good thing that's about to

happen to them.

So it's a similar.

They're kind of cocking their head in such a way to where they

can get a better angle on their ears.

This is just what I read.

I mean there could be a lot of other reasons why they do it but.

So anyhow it's a great expression.

Cuz they get these alert ears and these big open eyes and they kind

of cock their head at you and you can really.

I just resonate.

It just really resonates with me when you get that kind of expression.

So that's what the noise makers are for,

because you can kind of

evoke really great expressions,

and head tilts a little bit.

Not all dogs will do that.

It's definitely certain breeds and certain dogs personalities will

have more of a head tilt than others.

Whenever I got one, I'm like we got a high tilter it's supper exciting.

So that's what's in the bag so much peanut butter is in the bag.

You gotta be obviously careful with lots of treats and peanut butter,

the more that you have to keep the dogs interested,

and engaged with

you, just like old kids the better.

Their attention spans are so short so they are gonna wanna,

be- if you place them on a rock or like in a

patch of flowers or whatever they might hold that pose for like

three seconds may be and they won't look at you,

they'll just sit

there and wiggle around and check out the world around them

and sniff.

And so in order to get that tiny moment of eye contact and expression,

treats help a lot you can kind of positively condition them to,

look at you.

You can actually, they'll associate the sound of the shutter with the treat and so

it's a positive sort of conditioning or they'll hear the shutter and

they look at you and they know that a treat's coming.

As long as you treat them every time,

so peanut butter and treats,

that's tough you gotta be careful because when you're working with

clients, not everybody is super keen on letting their dogs

eat a ton at the session.

May be they are a little bit more weary of the dog's diet or whatever.

So if we care for, I bring healthy treats.

And then peanut butter,

you gotta be careful too cuz it does have

sugar in it and salt in it,

and so it's not the most ideal thing

in the world for them to have a ton of.

But I think usually clients would justify it with it's one special

day.It's one special shoot, we'll just do peanut butter today and

you have to be careful with certain brands of peanut butter too.

>> As your images are kinda scrolling through here and I'm looking

at them, one thing that I notice is you would think with animals

you always, always, always wanna get low.

And you do with a lot of them.

>> Yeah.

>> But not every single one

is shot that way.

Cuz you do a couple from above too,

but I love this is kinda like,

what did you call it

you called it the bobble head dog or something like that.

>> Yeah.

>> And it so describes it perfectly.

>> Yeah.

It's so effective with dogs because of course with people if we

use the 16 millimeter lens,

it's the most unflattering thing in

the world.

And you'd never point that if you're shooting a wedding or something

the last thing you would think of for a portrait,

of at least of

a head shot or whatever be like a 16 to a 35.

>> Right.

>> It's terrible for that purpose.

But when I started the point this lens at dogs I cracked up.

I literally looked at the back of my camera and have a good chuckle

and I'd like roll over the ground.

And I'm thinking if this makes me react this way

I would think that the rest of the dog loving population of the

world would feel the same way about how silly it is.

And it works so well with dogs it sort of like distorts their snouts

and these big old eyes and big bubbly heads.

And I think it helps to really capture and like personify the joy.

And the silliness and the whimsy that they bring.

You can do it with them.

Because they're just so silly,

so I love to photograph dogs super

wide, and yes low.

It's really important as well because dogs are a bit,

they're a

common thing in the sense that as a person living in this world

you probably see a dog,

I don't know 10, 20 times in a day depending on where you live.

You see dogs all the time,

they're not super out of the ordinary.

And you see a dog always from the same angle.

Typically you're standing and you're looking at the dog and the

dog is maybe three feet tall and you're looking down and oh how

cute, there's Fido or Rex or whatever and he's adorable

and he's looking at.

me.

I think in order to make a portrait of a dog compelling and interesting

and to really feel their story,

and kind of get their personality,

you wanna get on their level.

You wanna get in their worlds and see the world from their angle.

There is a photograph that kind of passed by a little while ago

of the little dog and then the tulips.

And it sort of looks like this wonderland of tulips and I mean those

were just the regular height of tulips,

and they were actually

in a Boston and public gardens which is this beautiful place I went to shoot.

This guy right here and that's just a normal scene,

it's not anything

totally out of the ordinary in terms of who walk by it every day in

the Spring.

We walk by tulips but putting him in there and laying on my stomach

always or on my side and putting the camera almost on the ground,

and just titling sort of up and shooting blind I can't really

reach my eye to the view finder when it's that low.

So it's a lot of shooting blind it creates this atmosphere that

you're like this has been here all along it's

at my feet and I never see the world from this way,

it's a

bit of like a bug's life sort of feeling and that's his world that's

how he sees the world,

that's his height. So I think it's important

to get down there and really interact with them,

it's something

that I always tell my mentees those students that I have in photography

is the number one thing is just get low,

that's the biggest

tip that I have. Because I think a lot of people are just used

to standing or maybe kneeling or something and that's okay you

can make really nice portraits that way don't get me wrong but

I think to take to that extra level,

that extra step of just like

super wild factor, super in your face puppies is to get on their

level.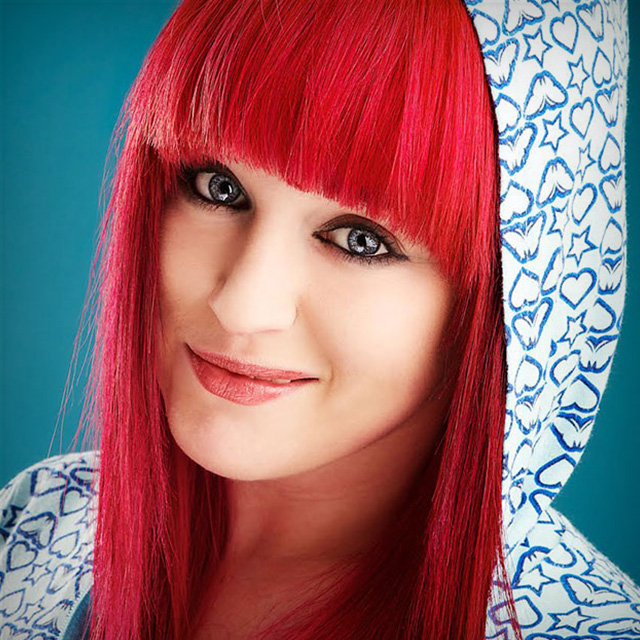 Kaylee Greer
Kaylee Greer is an internationally recognized private and commercial pet photographer. She is living out her dream through a camera lens in gorgeous Boston, Massachusetts. She's traveled the world teaching pet photography workshops and has seen her work published in many major industry editorial titles. Her images grace calendar lines, greeting cards, products, packaging and advertising campaigns throughout the commercial pet industry. Her photographic style is drawn directly from the inspiration she finds inside the soul of a dog. She is fueled by the joy, whimsy and unrelenting happiness that is so uniquely canine. Kaylee is known for her love of vibrant colors and unique process of capturing the comedy and character of dogs. Through her business, Dog Breath Photography, it is one of Kaylee's strongest passions to give a voice to the voiceless by volunteering her time to local shelters and photographing the abandoned and homeless animals who lie in wait for a second chance.