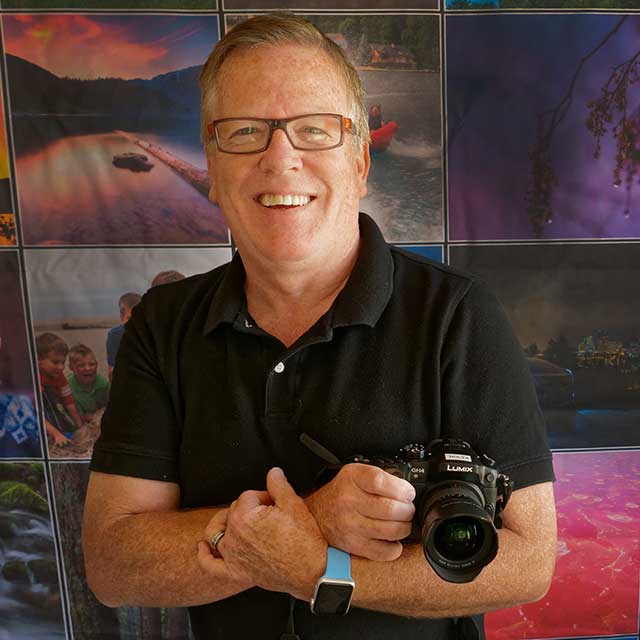 The Art of Digital Photography: The Inspirational Series with Kevin Gilbert
Lesson 1: On Getting Started
Published: December 2015
with Kevin Gilbert
About Course
Join Mia McCormick and Kevin Gilbert as they sit down to discuss Kevin's inspiring 30 career as a photo journalist and educator. Being a photo journalist has enabled Kevin to travel the world, bring back photographs from 70 different countries, and cover subjects ranging from tribal cultures to world leaders. Always on the look out for the coming trends in the field Kevin made the transition from film to digital while still holding dear to the concept of getting it right in camera. From working with newspapers to large production companies to starting companies of his own, Kevin's get it done attitude has opened the door to a world of opportunities.

DISCUSS

Have a question or comment about this course? Join the conversation today!

Discuss this Course

No materials available for this course

[BLANK_AUDIO]

Hi everyone, I'm Mia McCormick, if you wanted to catch

a glimpse of all the most interesting places in the world in just

one place, the archives of Kelvin Gilbert would be a great place

to start, for 30 years Kelvin has trotted the planet taking pictures

of anything that caught his eye from the tribal cultures of Mali,

to the most powerful man in the world.

From polar bears to hippopotamus, from bubbling volcanoes to frozen

tundra, he's been there,

shot that.

Kelvin has brought back images from 70 countries and his career

has taken him down many paths like shooting for newspapers, major

production companies and starting a couple of companies on his own

dedicated to passing along the knowledge of how to take a better picture.

Kelvin welcome to KelbyOne Studios.

>> Thanks for having me Mia.

>> I'm so excited to get this interview started cuz I've seen some

of the images come through before we sat down, and I'm like, I wanna

know what happened there, what happened there, but let's start at

the beginning and how a camera ended up in your hands in the first

place.

>> Well, I always wanted to be a film maker.

Actually in high school I worked in a movie theater, sweeping the

floors, cleaning up the popcorn machine, but I ended up watching Spielberg

and all these great directors, I get to watch a movie every night.

I'd sit there and watch Jaws or Star Wars some things like that and

I really got enamored by the visuals this kind of the epicness of, if that's

a word the epicn nature of the other cinematography so I went to school

to be a cinematographer until I realized that making movies, takes

a year it's a lot of sitting in post production and all this other

kind of stuff, and I said no I don't like that.

I'm gonna switch to become a photo journalist and I did.

I was at Syracuse University

and I just had a blast.

Everyday there was three or four things to do, and you get to meet

a lot of cool people and do a lot of cool things. And it just,

the bug bit me and I had to do it, that's why I have the sense of wanderlust

that's why I have this sense of let's do

something different all the time and not just be so focused but

let's just go have fun.

>> So photo journalism was kind of your introduction to still photography?

>> Absolutely it was, you had to learn you had to be able to, by

the time I got to working on a regular newspaper you have to know

that if you walked in the morning they might say today you're gonna

shoot fashion, you're going to do a fashion spirit.

Today you're going to shoot food or you're doing pet of the week,

whatever it happen to be and you just went and tried to do it the best you

can and learn.

A lot of times you just have minutes with the CEO of a company, and you

had to learn how to do it quickly, and efficiently without lights,

or with lights, or whatever and it just taught me to be a great

story teller and to have fun, and if you have fun and passion with

what you do you can't go wrong, you just can't.

>> And you can clearly see that in your images one of the things

that I have noticed is that they do tell

a story very well it's not just like a pretty image on

a screen.

I mean there is a whole story that comes with everything and so

I can see that starting then from your roots.

So what was your favorite things to shoot at that time?

Did you have a favorite subject to shoot or things like that?

>> You mean the early days of news papers?

>> Yeah

>> I started a small paper in Wilkes-Barre Pennsylvania.

The coal mining area of the North East of Pennsylvania.

I just love shooting sports and I love doing portraits of people.

I always just used to call it just people and their things it was

kind of the standard environmental portrait of some place.

But I got to meet some really cool people and do some really cool

things but what I really was always hoping for was some how to find a way

to get to Washington DC.

Because I grew up in a very politically enamored family in Massachusetts.

Knew the politicians as a kid.

Handing out leaflets as a 12 year old for president

and I was really enamored by that whole political kinda

world and being a photographer was my way into that political

world.

>> How interesting, then you went on to the Washington Post.

>> Washington Times-

>> Washington Times, excuse me and even to

the White House right?

So you photographed presidents?

>> Yeah I have photographed, I like this, I have photographed four

real presidents and two fictional presidents.

I started with Ronald Reagan, did George Bush 41 and then Clinton

and then Bush 43.

But my favorite presidents were certainly Martin Sheen on the West

Wing and Jimmy Smits also from the West Wing.

Because I worked on that show as a consultant at the time I was present

in the White House news photographer so I had this kind of entree

with Hollywood where I could go out to Warner brother set and

be on set with their cast and

talked to them about coming to our dinners and photography and everything

else.

And Martin Sheen actually sat and had a chicken salad sandwich

with me sitting at the oval office desk on the set which was incredible

because it was an exact replica of the real White House.

Because every turn you take was exactly and the handicap ramp was there,

right where it should be just like the real White House.

It was incredible, it's like they said go sit

in the camera room, you're like okay I know where that is.

And you just go that way cuz that's where it was.

>> Wow, for a lot of people you might think that, that would be

the pinnacle coming up in a political family to then be shooting

at the White House for your country really that's what you were doing,

that would be the pinnacle but you didn't stop there.

That's not where it ended for you [LAUGH]-

>> No wait, listen

my parents were so thrilled.

>> I'll bet. >> When you are

like at a peace treaty signing, there was one where I happened to

be

it was I don't know if it's King Hussein of Jordan and Yitzhak Rabin

of Israel and they were signing this peace treaty between Jordan

and Israel and Bill Clinton was putting it together and it was gonna

be this deal thing.

And they said does anybody wanna stand in the roof of the Oval Office

and make this picture?

And I was like yeah, that would be awesome.

And so I did, I stood up there in the roof of the Oval Office with

three other photographers not photographing the moment but photographing

more of a environmental scene of them all walking into the Oval Office.

It was really great fun, because for me it's always trying to find

something that's just a little different.

Just a little out of the ordinary, if ten people are standing here

I wanna be the guy standing way over there. And that's how I have

always kind of lived my political life, sometimes you have to stand

where they tell you to stand, it's that whole behind the velvet

rope thing

- >> Well that's what I was going to say, there has to

be some challenges, when you're shooting in that situation especially

coming from journalism where it's like if you can get to it and

you can shoot it you got the image but there is a lot more rules

at the White House-

>> Well there are rules you

can't just wander around you have to stand in specific places, but

the thing about being a newspaper photographer at a local news paper

in Washington especially at the white house you had an amazing

photographer from the AP or Reuters of UPI or AFP there and they

had the shot, they were going to get it no matter what. So it always

gave you kind of the implied permission to go stand over here 30

feet away and shoot with a long lens where everybody else is shooting

this kind of wide shot with the flags and things like that. So you

could make pictures that others wouldn't because they didn't have

that luxury of saying yeah if my picture doesn't work we'll just

use the AP picture.

>> Wow, that's interesting.

>> Yeah, it was a freedom that I tried to exploit as much as I could

that any time I had a chance to stand some place differently I just

would do it.

>> So then what would you say were the biggest challenges that you

faced there?

>> At the white house?

>> Mm-hm.

>> It is trying to be different

I mean you walk into the Oval Office

when you've been there over a thousand times, it's the same chairs

it's just different people and they're just sitting there, just

like you and I here and say that's a great picture, no, not really,

so you try to find different pictures and it just becomes boring

at times.

>> And I imagine the people are kind of like celebrities at that

point so they are so used to having their image being taken, they

probably get the same plastered look that you get every other day,

so that can be challenging.

>> And every time you see the scene of shaking hands picture and

you're like, these people hate each other >> [LAUGH]

>> And they're just

doing this for political purposes and you know I wish we would have

the kind of access like my good friend Pete Dsouza who's Barrack Obama's

personal photographer, and you can see Pete's work everywhere because

he's the first photographer to actually put it out in a presidential

like

live, we never really had that kinda of access.

>> Do you have any may be awkward moments on that job that you could

share with us?

Is there anything that ever happened that you were like

[SOUND]

maybe you

shouldn't have done that or get a look from a president or something

that was may be a little stern.

[LAUGH]

>> There is a few moments that have happen to me over the

years where I just kinda had a somebody spit out on my head and I know I should't

have said, but I'm not gonna go into those, I'll leave that for

a book because, one involved a woman who's now running for president

that I don't wanna jeopardize-

>> Well there's only one.

>> Yeah [LAUGH] my wife makes me tell that story every now and then

at parties.

Mostly just to show that her husband is a

dork. >> [LAUGH] Well I

love this, you have this great shot of Bill and Hillary and those

expressions on Hillary's face is just

hysterical, where is this

taken, his tie looks lie Easter, is this Easter?

>> Yeah this is actually the first year as president when he did

the Easter egg roll and what the Easter egg roll is, is all these little

kids, these little three and four year old and they're supposed to push

eggs on the ground with a spoon.

>> [LAUGH]

>> But they blow the whistle and the kids freak out and

the parents are like

[SOUND]

right cuz you're on the south lawn

of the White House and instead of, why Mrs.

Clinton is reacting this way is because the kids flung the eggs

and just went wow and the eggs start flying through the air.

>> [LAUGH]

>> or like aiming at them and that's why she just had

that oh my gosh what happened?

It's a silly little picture, this is like everyday kinda of things

that happen at the White House and you just never know when you're

gonna get.

There was this famous picture of Ronald Reagan the day before Thanksgiving

and they always pardon the turkey and I wasn't there

but it's this great picture of this turkey just went nuts and Reagan

was like

[NOISE]

>>[LAUGH]>>, and I was like, how were you really gonna

pardon this turkey, but that's just like the daily coverage you

do when you're covering the White House as a White House photographer

and you know as a newspaper photographer, covering the White House.

I wasn't there every day I would go for certain events or big things.

This picture of Ronald Reagan is one of my favorites because he's

leaving the south lawn of the White house getting a kiss from Nancy

and he is going off to meet Gorbachev in Iceland to kind of end

the Cold War.

But did we fly with him to Iceland?

No we are local newspaper, the associated press was there with him and everybody

else but I was at a little see you later honey good luck.

And it just happened to be, it became a moment >> It's a good shot. >> Thanks. >> I love it.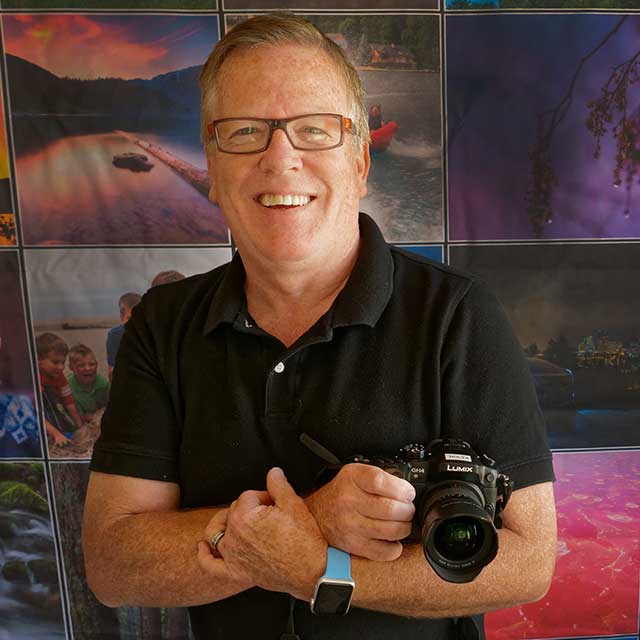 Kevin Gilbert
Kevin T Gilbert is an award-winning photojournalist, teacher, entrepreneur, and digital photography evangelist based in Washington State. He has recently been added to the Panasonic Lumix Luminary team. For over 30 years, Kevin has been shooting news and features of the world, from the White House to halls of Capitol Hill, Super Bowls to Superpower Summits, from the mud of the Kentucky horse tracks to the back lot sets of TV's biggest reality shows.  Kevin has been elected 5 times as President of the White House News Photographers Association and won over 40 awards in the annual Eyes of History photo contests. During his time on the streets of DC, he has photographed four sitting Presidents, as well as two fictional Presidents during a stint shooting on The West Wing television show for NBC. In 1997, Kevin teamed up with reality television super-producer Mark Burnett, and has shot over 20 television productions including The Apprentice, Eco-Challenge, The Contender, Rock Star INXS, and others. He complimented his reality television work, becoming the first contract still photographer Discovery Channel, Animal Planet, and TLC, shooting stills all around the world. Kevin has shot over two million digital files since his early days in digital on the Presidential campaign of 1996. He has shot in 70 countries and shot and tested over 150 digital cameras. A leading voice for the power and emotion of photography, Kevin is the founder, of Blue Pixel, one of the country's most influential digital creative groups, and consults for the biggest names in retail, computers, software and camera manufacturing. He also leads a national initiative called PhotoCoaches™, teaching people to take better pictures, tell interesting stories, and enjoy the happiness of taking pictures! In 2012, Kevin helped form Mylio and is the Memory Evangelist, teaching and speaking all over the world about the importance of safeguarding our digital lives for prosperity. Everyday he meets someone who needs to save and find their pictures! Kevin can always be found having fun with cameras, helping others to achieve success in photography, chasing the light, and enjoying the moment, one frame at a time. Kevin lives in Redmond, WA with his wife and PhotoCoaches™ partner Jamie Schander and their 2-year-old daughter (and main unpaid model) Viola Grace.