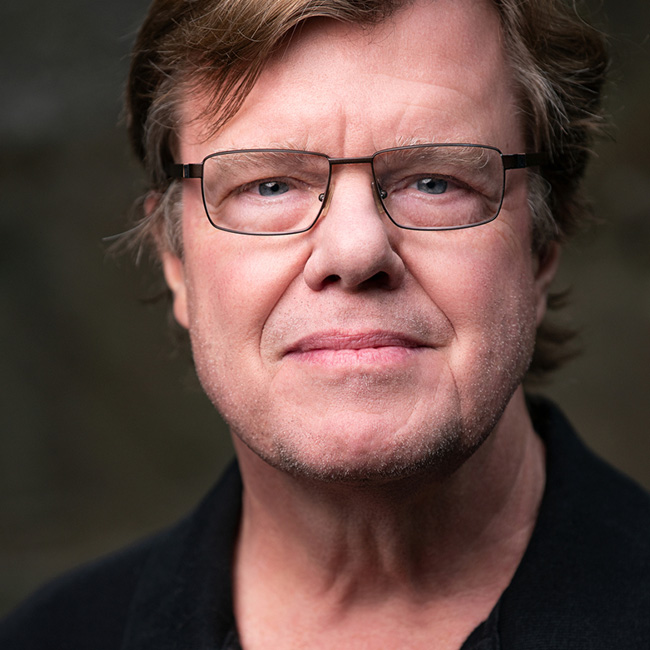 Light, Shadow and Motion
Lesson 1: Introduction
Published: August 2012
with Joe McNally
Duration: 1 hour 23 minutes
About Course
This class is all about matching a light to a move, where you start out with the set as an empty box that you fill with your creativity and imagination. As the dancers work through different moves Joe shows you how to light them with both studio strobes and speedlights to achieve a variety of looks, all the while sharing the tips, techniques, and tricks he's learned over his impressive 30 year career.

DISCUSS

Have a question or comment about this course? Join the conversation today!

Discuss this Course

No materials available for this course

On the set again.

It's an empty box behind me.

The dancers are going to fill that up.

I have to respond to their

emotion, and grace and

elegance with hopefully, an equivalently graceful light.

Today's lesson is going to

be about that, matching a move to a light

or a light to a move, more appropriately.

So what we're gonna start off

with in the early

part of this, is just a

strong overhead dramatic light and we'll build out from there.

The dancers work well

together because they're very familiar

with each other, but we're also gonna do some singles.

We're gonna do some big flash, we're gonna do some small flash.

We'll do some signature moves on

the part of the dancers where they

really fly into a specific

light, and also we'll

do kind of a, almost

a jazzy,

couple kind of swing-dancy kind

of thing where they levitate in

the air, we light them with

cross lights. All that's going to

be part of this particular type of

lesson, and as always,

where I'm going to start, is by talking to the dancers.

Talk to your talent.

That's one of the first and

foremost things you can do before

you get behind the camera, before

you make an exposure, talk to your talent.

So I'm going to go do that now.

So, Tamara's working her

magic, obviously. Hair and

makeup, very important part

of any theater, dance, shoot,

stage production, anything like that

but it's also important to talk with your dancers.

So that's what we're going

to do now, we've already talked out

wardrobe. So just kind of

working a little bit against type because

usually, again, you associate dance

with leotards, or

form fitting clothes, etc.

So we've got Jeff in

kind of a business suit, and Daniel in kind of a gown.

Alright.

So, here's the thing guys.

Here's what I'm going to ask, at least to start off with.

We've got an overhead light,

a very dramatic overhead light.

I'm gonna see how it looks

and feels as you guys play up into it.

We'll probably do some doubles and some singles into that light.

We'll try to move fairly quickly through

some various light iterations, and

not super speed because we have to keep changing things.

But if you guys

had a signature move,

I mean, some folks ask me this all the time like, what's your favorite picture?

It's like asking a dancer

like, what's your favorite move?

What's your strength?

I do want action up in the air.

If there's something you can relate

to that you know that,

this is really where I feel comfortable,

I'd love to see that.

Okay?

In terms of relationships in the

air, I'll let you guys kind of work that out organically.

You know, you guys have danced a lot together. So,

it's a very

concentrated pool of light.

Its a sliver, its a

strip on the set

itself, and it's going to

be very overhead so all of

your activities with your faces would have to be up,

not so much down.

Okay?

Or I'll lose you.

Okay?

If I need an extra light, we'll bring it in.

We'll see how your body language works out under this particular source.

Great.

Okay.

Perfect.

Great.

Great.

Thank you.

In the middle of a white set, right?

But the set or the

background will not be white because I'm not lighting it.

Okay? You can make white, black

with the absence of light, if you want to.

This particular texture back

in here, this white seamless will go gray,

kind of a steely deep gray,

reason being we have a very directed light.

It's a soft light but a directed light.

It's right overhead.

This is called a strip

light because it looks like a strip.

It's

Just, the nature of the light is long and skinny.

It's a wonderful light for

the human body because as I

oftentimes say about a strip

light, it's like taking a line

of light and drawing it right along the body.

So I'm going to have my dancers going up into this light.

Now if you can see the reason the background is going as deep

and steely as it is,

is there's a couple of flanges

that we've attached to this

strip light that exaggerate its collected nature.

There are 2 lightweight pieces

of black foam core board running

along the vertical edges of

it, which instead of allowing

the light to go this way, it's

gonna really corral it and force it down this way.

So, it has a direction that

starts this way from the

get-go, but as with

any soft box, there'll be spreads.

So what we're trying to do with

those boards, is coral that

spread and make sure that

the light goes to where we

want it to, and not to the background.

The reason being, I want

the attention and the drama of the lights t stay with the dancers.

What I've already spoken to them

about, is the fact that their gesture now has to be up.

When you light in a specific

way, you have to have

a specific gesture in return to that.

So in other words, they can't

leap and look down, because they'll be out of the light.

So, in this sense, yes,

I've created drama, but often

times what goes with drama, and

specificity of light, is

a specificity of gesture.

So the dancers are wonderful

in that regard because they can

do all that.

You can tell them,

look, you got to play

to this, and they'll be, fine, no worries.

Okay? So, that's our starting point.

It might not be enough, that's

the thing. There might be

some amplifications that'll needed.

Maybe some side light or

a rim light that'll take place, but

as I always advocate, your main light begins the process.

Your main light is what you achieve or start with.

That's what you build all your blocks of lighting on,

is the main light.

Make sure that you get

that right before you start

adding components, because light gets complicated.

The more lights you have on the

set, the more problems you

potentially have, and it

gets more and more difficult to sort them out.

So set up one light, solve that

light, and then move on from there.

Alright, so, what Jeff has

done already on the

scene, has executed a move,

it seemed like he was almost sort of warming up

when I first observed him just pop up into the light.

And that's what happens, is that

when you work with creative people, it's

like all of a sudden, like that sparked something in my head.

The sheer simplicity of it coupled with the simplicity

of the light seemed to speak well together.

So what I asked them to do,

is just casually, basically levitate,

it's not really, I wouldn't

classify this as a dance leap, right?

This is not an articulation in the air.

This is just, kind of a

levitation using the, actually, more in

the way of his actor skills than

his dancing skills in

a lot of ways, because what is

wonderfully ironic about the

photograph, is he's suspended in the

middle of

the of the air, and he's just

got this casual gesture like, I

don't know, I'm just looking at a bird in a tree, or something like that.

So that's what inspired the

reaction here, and he accommodated that.

That's where you ping back

and forth with the dancer because

they have things tucked up their

sleeve, literally that you can't

completely know about in terms

of just being back for

the camera, especially the first time you work with them.

But, I have other considerations,

as you can see, behind me there's

a depth to the picture. I

have detail right through his shoes.

I don't have too much detail on his paints.

Now, you could say,

you've got to bring another light in here.

My submission back, it would be, I won't do that yet.

Because I've got something good

going, and here's one rule

of photography, that's,

there's no rules to

photography, everything's designed to be broken.

But here's a rule I try

not to break, I think about

this back at the camera and

I say to myself, Joe, try

not to screw this up.

So, I could screw it up by adding another light.

So, I'm gonna let this ride,

and live dangerously a little

bit with the idea of

just the hot rim starting here and then fading,

and risk losing some detail in

his pants to just make

sure that the gesture stays as

simple as the light is.

Alright, Jeff.

If there's a way now, that

you could perhaps make this

move, put the

gesture with your feet is

wonderful, you can freelance that if you like.

But if there's a way,

maybe you could bring a leg

just slightly forward a little bit.

That would catch some light.

Okay.

Ready, Cool.

That's good, you

can see now the folds of

the pants, are starting to pick up light, light is very directional.

You want to take a look, Jeff?

Oh yeah, that's cool.

It's definitely cool, definitely

like it a lot.

See now this has detail.

The previous frame, see this

is the directional quality of the light.

When you have your legs underneath like

that, you can see

that the pants start to

lose, but bring them

back forward here, and the

wrinkles show because the light is coming straight down.

Let's just, you know pretty much the positioning now.

Why don't you just do a

couple of things and see what happens?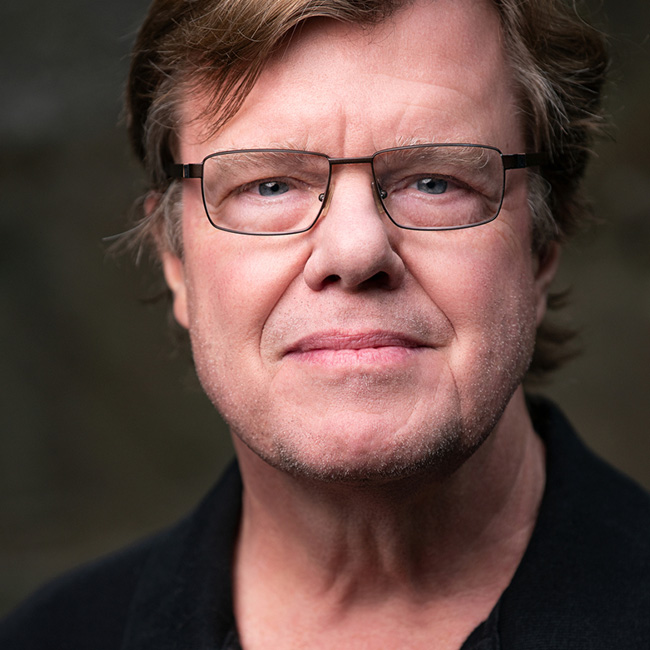 Joe McNally
Joe McNally is an internationally acclaimed photographer whose career has spanned 30 years and included assignments in over 50 countries. He has shot cover stories for TIME, Newsweek, Fortune, New York, Entertainment Weekly, The New York Times Sunday Magazine, and Men's Journal. He has been at various times in his career a contract photographer for Sports Illustrated, a staff photographer at LIFE, and, currently, an ongoing 23-year contributor to the National Geographic, shooting numerous cover stories for those publications.