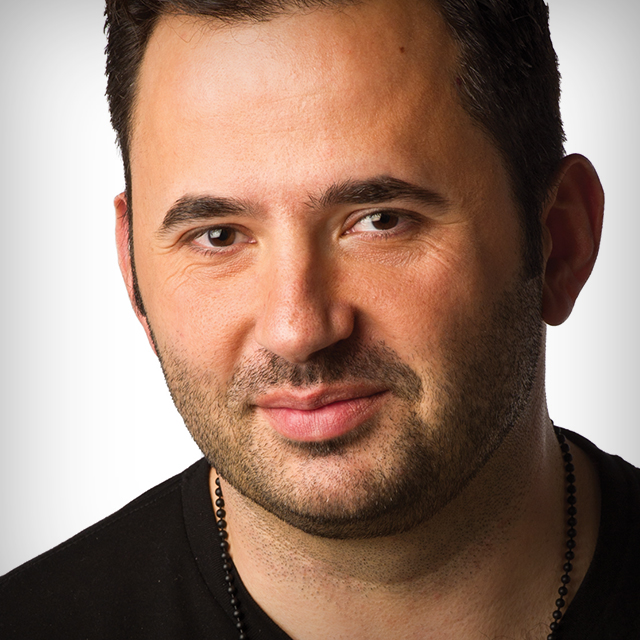 Picture-Perfect Lighting Techniques for Wedding Photographers
Lesson 1: It's All About the Quality of the Light
Published: June 2012
with Jerry Ghionis
Duration: 1 hour 39 minutes
About Course
Beautiful light is all around us and Jerry Ghionis is a master at finding the best light for making wedding photos look downright magical. Jerry believes that location means nothing without beautiful light, whether it is found out of doors, standing next to a window, or from artificial sources. Join Jerry on an action-packed, non-stop series of wedding shoots that range from indoor window light to candle-lit romantic tables to the nighttime lights of the city, as he shares an endless supply of professional tips and tricks on everything from posing your subjects to getting proper exposure in every form of light you can find.

DISCUSS

Have a question or comment about this course? Join the conversation today!

Discuss this Course

No materials available for this course

It's always important to look for the direction of light first.

You know when you're in a place

like this and you walk

all around, you'll see these

amazing locations, you know

what if we can often get

seduced by location, but location

means nothing without beautiful light.

So what I want to do now

is I'm actually saying there's two qualities of light coming through here.

If  you look at the window

there's actually a truck packed

across the road giving us

a beautiful reflection back here, even

if it leaves which it most

likely will, we'll still

going to get some beautiful light, so

hopefully we can take advantage of it while it's here.

But what I'm thinking is a part

from just having a quite

a dark dramatic background which we

have here it's important that we expose for the highlight.

Now when I say expose for the

highlight it means that we

want detail in the broad

highlight in the face that

it's really important and I like

a dramatic quality of light, remember

side lighting increases texture, so

often what I'll do is

I'll make sure you're going to turn

the body away from the light

source to a certain extend and

until get some shots of the

body, and then turn the

face back in, and what

happens is when now shooting

on the short side of the

face, often referred to

as the narrow side or the

shadow side, and that will

give it some really cool cheek burns, really cool jaw line.

Now, Brent who we've got here

has a really cool face, fully

shaped face, doesn't really need

the help, but certainly I find

that if he gave the groom a choice

would he want to be shot on

the shadow side of the face

to get some chick bones and jaw line, he certainly would.

What I love about this is we've

got two windows on either

side so if we

bring the groom here enough,

we're going to have a little bit of

light falling on here and

a little bit of a hair light, excellent

light coming on this way, possibly to

separate from the background, although I

might choose to close this

blinds as well, what I'm

thinking of doing now is actually

just getting some loose shots of

breadth with a lose sort

of brad tie around him, and I'm going to

shoot at this as if

am on a wedding day to give you the idea of how I do it.

So, I start by building trust,

and getting to know the groom as well.

and we're going to crop the

face a little bit, crop

it nice, and tight, and really emulate what

I'd do at an actual groom's coverage.

Now, let's do this.

Now, what I often do is

apart from just looking at

the lighting on someone's face,

and body type, what I'll

do is even sometimes before the

actual lighting is on the

groom, I'll look at my

hand, because over here we've

got two qualities of light,

but the window here, and the window over this way.

So I've got two choices to

shoot, so I look

at my hand look at the quality

of light on this hand, and

then look at the quality of light

on that hand both are pretty

even so I'm thinking because

this a neutral background I'm going

to be photographing there and why

I'm shooting here's because I've also

got back otherwise here its

quite neutral so were going to start right here.

Now for a groom its really

important, later on today

we're going to talk about posing the female form.

As far as a guy is concerned,

many of us, any

grooms are going to have a

like [xx], perhaps we might

be struggling in this area or

struggling in this area, the

best way of posing a guy

and I describe it as

hanging the body okay, so

what we do is this, we just

hang the body forward, its almost

like slaching a little bit so

what happens is that if we

slach it slightly such as a bad well I'll call it hanging.

If we hang the body forward what

happens is now the chest and

the shoulders are the closest

things to the camera and if

that happens, then he's going

to look quite broad and got

a great figure, otherwise if he

stands up too straight then the

stomach there's something going

on here, I don't know whats going

on here but what will

happen is that will look

a little bit heavier, also if

we hang the body and the

chest and the shoulders are the

closest thing to the camera, also

that will fore his face down.

so if I pose his face

up and his chin up, we're

going to lose this and stretch out

his other face as well which is really cool.

Alright fantastic, so let's stop

at that now also what I'll

always do when I'm

photographing a groom or a

bride for that matter, I'll always, give

them a mini lesson on posing,

so Brad what we'll do today

rather than you just work

it, what I want you to

do is just follow my direction

and mirror me.

So if I'm looking at you

for example like that, if I

just turn this way we just

turn that way it's the easiest

way of posing someone without actually

physically saying anything to them because

you might had a really good

feeling, a good idea of

what you want and then if

you say something it might spoil

the mood but simply just mirroring

your clients they'll know what you're look for.

Also it's important to know

what I normally do is I'll look for the light first.

OK so I give my client a little mini lesson of how I shoot.

Just so that they respect what I'm

doing little line they understand

the process, so I look

for the direction of light first I

loo for the complementation location I give him a concept.

So number three is how I'm

posing them, what's the concept,

what's the action and so on.

So for example this is just

a casual classic shot of a

grim no problem, so I'll

leave in a roughly city map

then normally I'll do this without

a camera in my hand that's

really important because you develop a rapport with your clients.

Now then number four step process

is my technique my exposure

now I will always tell my

subject, my clients whether it's

a groom or bride or a

model if I like

what you're doing I'll never say a word to you.

In other words never ask what

I'll look, what will I

do because you may have

certainly look down look away

and thought wait a second that's even

better than my idea or you

can really capture the essence of my idea.

The number five process is the

expression because with that

expression there's no salt of

the image, with that expression

really a money photographing a pause

rather than a moment certainly we're

going to do stars a lot

of images today but often let

me we get into it we're going

to have a little bit of fun we're going

to move around we're going to

get a bit of animation, but I'll start

by developing trust doing some classic

shots of the groom and then I'll show you as well.

I will always you the groom the

image to give him

some confidence that he's looking good and is working well, okay.

Even with someone as handsome as

Bren, a good looking

dude in bad light is

not as good looking as he

was so we are going to

bring the best thing here as

well which will be great, so

on the strength of that

I'm going to get you

come a little bit closer let's just

stop there now do you see

the way the light is falling his

shirt, closing a few

shadows giving us some a

lot different dimensions which is important,

now that light coming through that

window is just getting a

little bit of a tickle on the hair there,

which separates his hair from

the background and a little

hinge of the jaw line which works,

the catch lights in his eyes

are really cool too, now for

something like this see the

way his tire is there this

is really important to understand, our

eyes rate from top left

to bottom right, okay naturally

we want to look from top

left to bottom right so a

composition and a flow should

normally be that way, so

for example if something is

simple as that if I was

just to bring this down a little

bit that way, its just more

pleasing to the eye, subtleties like that are really important.

So for this shot, we're only

give you, put your hand

in the pockets, and again hang you

body forward just a

little bit apply it on

your face, perfect and now

look at those catchlights so look at

my hand and may just use

your eyes, now those catchlights

now are a lot of

his eyes which start look that

gray, but when we turn

and he looks at

my hand there, you can those

catch lights now looking really

really good, that's really important.

The catch light should normally

be if you have a choice at

the 10  o'clock or two o'clock o'clock position which I think is important.

So now these are

looking really good, we've got some really

nice slot falling on the back

here as well, I'm going

to shoot from this particular angle, shoot

back and again so just

so I stop building trust and get some confidence up, so let's do that.

So first thing I do when

I talk about exposure I

will choose normally the lowest ISO

that I can get get away

with it, if I can get better

quality, why wouldn't I. For

something like this, I'm thinking we can go 400 ISO.

As far as white balances consume,

we got a warm quality of light,

so I don't want to get too warm now.

I'll stick with the daylight white

balance, it'll correct a little bit of warmth, but not too much.

So let's go daylight.

So 400 ISO, I'm going to get daylight.

I want a shot at the field, so I'm going to go 2.8.

OK, now I always shoot on manual.

Manual is a lot more

consistent, because once you set

the exposure [xx] the same,

you don't have to worry about it

because if I was to shoot

let's say aperture priority with

a exposure compensation, what happens

is, if I subtly move

and allow a little bit more

light filtering through, the problem is now, it affects the whole exposure.

So I'm going to shoot on manual.

Now, what I do is I diagnose what I'm looking at into the camera.

I shoot on either Matrix Metering

or Evaluated Metering for Canon users.

Once you're looking at the frame,

the camera is going to diagnose

the entire frame, and work

out what it sees now, it

doesn't see color anymore, it sees tones of black to white.

It mixes is those tones in

and whatever it gets, it wants to make mid grey.

So what we have to ascertain

here is how much, what

tone is at getting, and once

we get to that mid grey

point we have to compensate accordingly.

In other words, if I was

photographing let's say an African-American

man wearing a black suit, leaning

on a black wall, the problem

now is the camera C

is really dark, and it's

going to mix those tones

in there, and make it mid grey.

Therefore we have to understand it's going to overexpose the image.

So1t what we do is we now

underexposure it now typically

when you start out your experience youu actually think ` ink the opposite.

If you see something dark yo think

I want to overexpose you do the opposite.

The camera does that thinking for

you, so we see something

dark the camera will make

it mid gray therefore we have

to underexposure to get it to the way we see it.

And the same way is

if you're photographing let's say a

pale skin bride wearing a

white dress standing in a white

wood the camera see what it

may makes it grey therefore we

have to overexpose, experience will

be your best teacher as to how

far you over underexpose deliberately.

What yo found me doing today is once I get the shot.

I'll take one quick snipped, one

little shot and once I'm

happy with it I quickly

delete my test shot and

then I spend the entire

saying not looking at the back of the camera.

Suddenly more look at the

back of the camera for cropping, or

more even shot the groom,

but I'm not going to pay

attention to it too much so

let's I'm attentive of that so let's have some fun.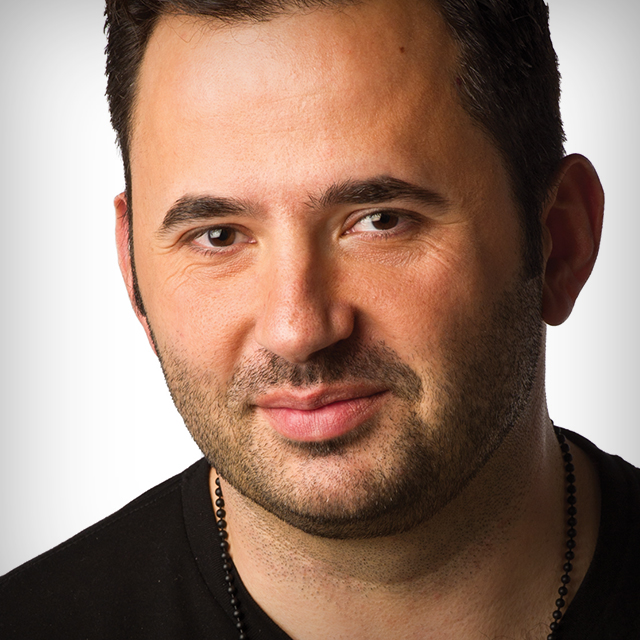 Jerry Ghionis
Widely regarded as one of the top five best wedding photographers in the world. Jerry Ghionis is based in both Melbourne, Australia and Beverly Hills, California. He travels frequently on international photography assignments and speaking engagements. With the flair of a fashion designer and the ingenuity of an architect his style can be described as vintage glamour meets contemporary fashion. Renowned for his creativity, he not only has the ability to capture the natural magic on your wedding day, but creates a magic of his own. His natural love and empathy for people creates powerful visual story telling. Jerry was named in the first ever list of Top Ten Wedding Photographers in the World by American Photo Magazine. He won the WPPI (Wedding & Portrait Photographers International) Wedding Album of the Year eight times and was noted by WPPI as one of the Top Five Wedding Photographers in the World. Jerry was also named as the 2011 Australian Wedding Photographer of the Year by the AIPP (Australian Institute of Professional Photography). For four years in a row Jerry has achieved the PPA (Professional Photographers of America) Diamond Level Photographer of the Year Award. In 2011 Jerry was named by PDN magazine as one of the top photography workshop instructors in the world.