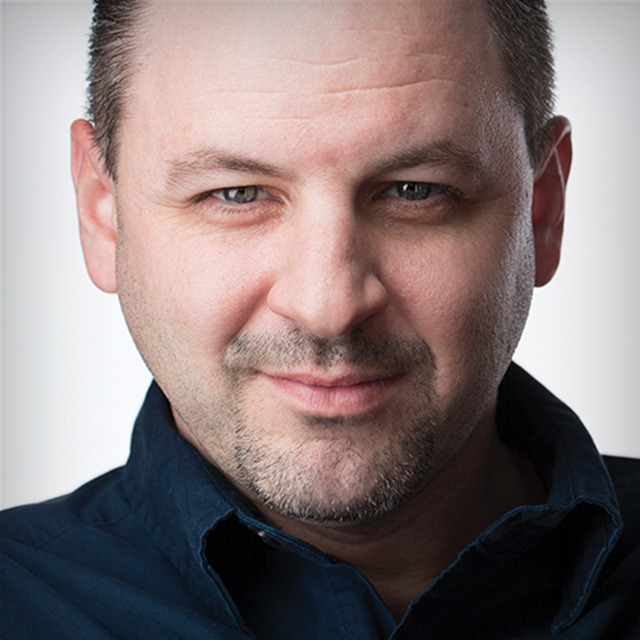 How to Photograph and Create Fun Holiday Cards
Lesson 1: Gear and Technique Breakdown at the Playground
Published: December 2015
with Corey Barker
Duration: 1 hour 19 minutes
About Course
It's the holidays, and you need to start thinking about how to make those holiday cards.  You're into photography, and into Photoshop. Instead of taking the same picture for your holiday card, or running to the mall to get that moment with Santa - how about making a card that they'll really remember.  This class will show you how to use a simple playground to make a funny scene using simple gear and Photoshop. We'll then move back into the lab and show you post processing tricks that will take that image to the next level.  We'll even add to the Christmas Card by using compositing - and our library of Santa Claus pictures that are yours to keep!

DISCUSS

Have a question or comment about this course? Join the conversation today!

Discuss this Course

[MUSIC]

Happy holidays everybody, RC here from KelbyOne.

Now, this class is a little different for you guys.

Let me explain to you the problem.

It's holiday season, and everybody goes to the mall, you try to

do a picture that kinda looks like everybody else's.

What if you are different?

You have access to photography and you have access to Photoshop

and we wanna teach you how to create a nice fun nice card that you can

use for the holidays.

What if we created a scene?

Very simply, one line, and a family?

We have Mia McComick that's gonna volunteer

her and her son Max to do this for us, and what I wanna do is I wanna be able to talk

to you about how to take a playground, and how to take them and

create a funny portrait that you can use for your cards.

Once we do that, we're gonna go back to the studio once we finish

all these stuff and we're gonna show you how to do the post processing,

we're gonna give you guys tips on how to composite your child, into

that Santa Clause

environment that experience.

Now, to pull off the picture that we're trying to do here, we have

a playground, let's just go back up a little bit and talk a little bit about why

we are here.

Why did I pick a playground?

I figure everybody has a playground and if you're in your town,

or your village or your city, or somewhere, you have your own playground,

you have a place where you can try this shot.

I wanted to keep all of the post processing minimal.

I don't wanna show any kind of great Photoshop tricks but I wanted to kind

of give you some processing techniques that I think are gonna work.

Playground, everyone has it, no one is really doing a cool funny shot

of it, so it's accessible.

I don't wanna put you in front of a fire place hurt seen.

If you don't have it, then why would you wanna use it?

We'll do that later when we do that Santa thing.

But playgrounds, everybody have them, the lights are gonna be minimum

and the concept of what we're talking about right now is called plating

so what you do is, number one, the most important thing that you

can do with most of these stuff is to get a tripod that is solid, that is locked

down, that doesn't move.

The concept here is you're gonna take a series of frames

and all of those frames when Max is on them, when Mia is on them, when

everybody is on them, they are all exactly the same, they are all

aligned, those plates are aligned. So by doing so, it really doesn't

matter if Corey is in the shot with an umbrella where Max is because

they are all gonna register exactly the same and I should be able to use

layers to pull out all of the individual components that I want from

those things.

So it's common in post production commercial photography they do that

in kind of, when you're building movie posters and effects and some things

like that, you'll see that kind of stuff.

They will take a plate of the environment at different exposures,

they have it as a base, and then from there you can lighten individual

elements.

So what I'll do is I'll take a bracket of this and I'll get all of

that stuff set up.

So here we are in the back of the camera, my flash is off because

I'm not necessarily doing any flash work right now.

The tripod is locked, I'm hoping that I don't kick it, I don't wanna do anything

with it, it's super locked down.

I'm using a really light stuff TPC 14 with BH-30 head, really solid.

It's gonna work.

Now inside of here I'm gonna go to the Q menu

on my canon and this is irrespective of your camera.

What I wanna do is choose normal ISO, 400 is pretty good these days.

So I'm gonna have that set there.

F13 I want good edge to edge sharpness, I don't necessarily want

to worry about whether or not something was out of focus.

So F11, F13 you're fine Now, once you have that set I am shooting

in raw so I'm fine with white balance but I'll leave automatic white

balance just to be on the safe side.

Now, there's nothing here.

Nothing is moving.

I'm gonna take a bracket.

I'm a HDR guy so I could do an HDR I'd like to have that available to

me but I'd rather take a bracket instead in the event that I need darker

and lighter portions of the scene. So it's not bracketing, it's just

never for HDR, it's actually to have different types of exposures

and I'd rather have it and not need it than need it and not

have it. So to do that, the first thing that I'm gonna do is I'm

gonna go to my menu.

Check your camera's menu and see if

if you can change the number of bracketed shots that you have, shoot

as many as you can.

Digital is free so do that, it doesn't cost you anything to shoot

it.

So in this case I've set myself up to seven.

Now inside of my menu I'm gonna switch over here to my Bracketing

and I'm gonna turn Bracketing On. So now I have the set up for seven

frames and the last thing I'm gonna do here is I'm gonna set myself up to

a two second timer, that way when I press the timer and it goes

off, it will shoot all seven frames.

The flash is off so it's not gonna be calculated in there, focus locked

two, one.

[SOUND]

Not bad. So now if you look there's my plus three, plus two, plus one,

there's my zero meter, there's my minus three, minus two, minus one.

I kinda like minus one for all the layers and the colors of that

so I'm gonna shoot minus one when I move to aperture priority

so inside of here

I'll pull of this here, and I'm gonna go over

to my Bracket, instead of having my Bracket set for one step apart,

I'm gonna close it and then I'm gonna move everything down to about

-1.

That's gonna be the basic exposure that I'm gonna use for all of

the shots.

It's kinda tricky right now because the sun is going in, the sun

is going out, I can't rely on it, if the sun comes out, a lot of

stuff is gonna be in shadow, if the sun goes in I'm gonna get good

saturated color but I might slow down on my shutter speed. So to do this,

we'll go ahead and we'll talk about a just a very simple light set up that I can kinda carry

around and I can move around, and it will help you with your environment.

We've talked about kind of the environment, how it's kind of a little

bit unpredictable and we want to make this shot, I figured the easiest

way to do this is to use a flash.

I have 17 different shots and I have Max in a bunch of different

positions.

There's a reason that I wanted to do this.

This will allow you to expand and contract at the size of your family.

We're using Max in multiple locations as a kind of

a funny thing about him wanting more brothers and they are all there.

But this is also a really good way for you to work when you have multiple members

of the family.

Right now it's just me and Max and we're using Corey kind of as a

standing for stuff that we do later but what if you have five kids?

What if you have three kids?

All these things will apply.

So if we had an environment where we had five children and parents,

you don't necessarily want five lights or six lights.

I don't want you to run around having to go get five lights and

explain the five lights set up.

You're plated which means that that's not gonna move.

All those layers are gonna stock exactly on top of one another so

that gives you an opportunity to just use one line and go around

and light individually, all of those different components.

Now, in order to make it softer and in order to make sure that I have a

good amount of spread on this, I've taken the light and I've put

it in with an umbrella that's connected to a tripod.

If you have a mono pod like a regular small mono pod, this is a

good thing.

If you have a tripod, just collapse it.

If you have a light stand collapse it and walk around with it

you don't have to set it down, just carry the small

light stand with you as you're doing it.

So the goal here is, I'm gonna use Corey to do this but the goal

is to have this umbrella and we have one shot here, turn around

and come over here, and I'm gonna take the shot.

It doesn't really matter that I'm in the shot.

Because all of the other shots we have a plate and all the other shots

can come from there.

So if he's in the shot, great, doesn't really matter.

Now we're gonna take one of Max, we'll put the light over

here.

I'm not really worried about crisscrossing a shot, and things like that

it's supposed to be funny so it will be fine.

We can shoot right here, then if he's coming off the side, we can

shoot right here.

If he's coming out of this hole, we could shoot either here, or there,

or out of here.

If he goes over the tube, we could shoot right around here in this

section.

The prison shot, we can do right here.

High-five we can do right here, and this shot we can do right here,

so we have

all of those different set ups that

I think are going to work for us, inside of this.

Now, what I'm using here in terms of light, let's go ahead and talk a little

bit about that.

I'm using the Phottix Mitros System.

So these are Mitros plus lights for Canon, you can use some for Canon

and for Nikon.

And right now, if you see, I'm gonna go over here

I'm just gonna press and hold this

down and I have this set, there's different modes for the Mitros.

So you have an Odin transmitter, you have a receiver and you have

all these other types of transmitting options that you have for the

Mitros.

We have a KelbyOne class that's gonna cover all of these stuff for

you.

But for now, I need to set this as a receiver, so now it says it's

Odin receiver channel three group A.

That's the first thing I wanna do.

So that set up there I'm gonna set this down, and it looks like there's

a helicopter flying around, I'm gonna turn this one on and I'm gonna

check where we are in terms of this one.

So I press and hold this and look, automatically I'm already set

to Odin transmitter TX and you'll see

that right now it shows that group A is running TTL and

negative one exposure.

I don't necessarily want to worry about I'm shooting at 60th because

of sync speed and F stops all of a sudden, let the cameras do what they

do best.

It's an aperture priority, you're about a stop down.

TTL, if you have a set up in a TTL environment like this what it's

going to do is, it's just going to do the exposure that it believes

is a good exposure.

So your TTL right now is set to zero.

It's gonna figure out how much light it needs to do the shot that

it wants.

For group A, if I find that it's a little bit too hot, I'll just

come back over here and just hit the left arrow and bring it down, one stop.

The light will adjust itself and it will be one stop darker.

Rather than thinking about shutters and any other kind of stuff,

all you wanna do is keep it simple.

Aperture priority, one stop EV down gives us a smaller environment,

we'll put our light back in and then if that light gets out of hand,

we'll change the exposure composition on the flash to get

a really, really good balance for that. But it keeps us light we

don't have to worry about carrying a bunch of different things,

it let's us move around, and by being locked down, you'll get a

good capture of that subject for every individual frame for when

we put this together, have something that looks nicely lit.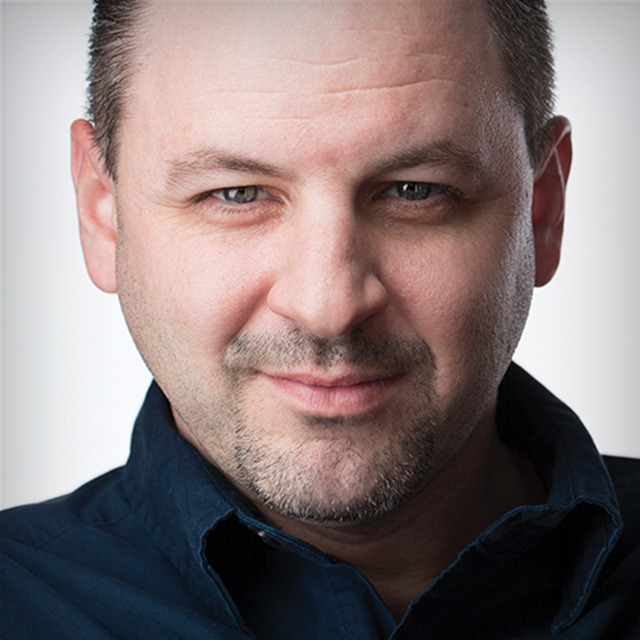 Corey Barker
Corey is an education and curriculum developer for KelbyOne. He is a graduate of the Ringling School of Art & Design in Sarasota, FL, with a degree in Illustration. Over the years, Corey has worked as a graphic artist in a variety of disciplines such as illustration, commercial design, large format printing, motion graphics, web design and photography. His expertise in Photoshop and Illustrator have earned him numerous awards in illustration, graphic design and photography. Using Photoshop since version 2, his expertise and creativity have evolved exponentially with every new version, which makes Corey an invaluable addition to the KelbyOne team.