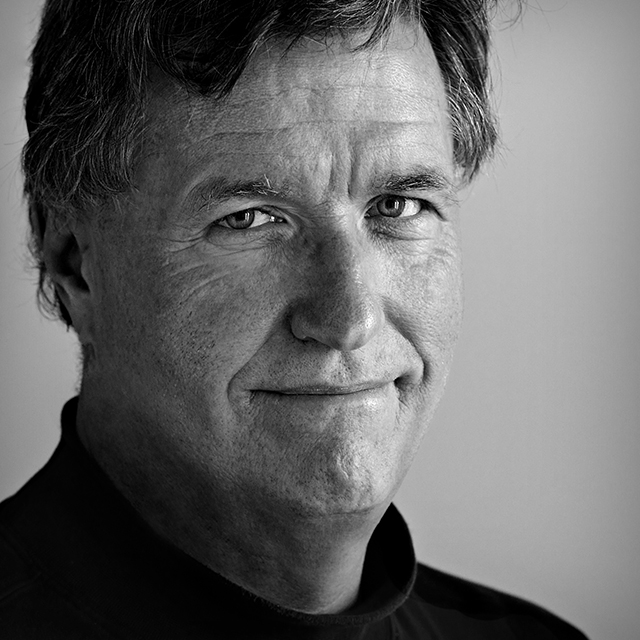 Career & Lifestyle Portraiture
Lesson 1: Executive Portrait Part 1
Published: June 2012
with Bill Frakes
About Course
Every picture tells a story! Join Bill Frakes as he goes on location with subjects such as a mother and son, a corporate executive and a chef in a working kitchen, to learn how to create unique images that instantly tell a deeper story about the subject. Bill shares tips and demonstrates techniques teaching how to work efficiently to create simple yet elegant portraits of people in a variety of lifestyles and careers, both indoors and out.

DISCUSS

Have a question or comment about this course? Join the conversation today!

Discuss this Course

No materials available for this course

This is the room

as we found it, this is

really typical when you come

into a room to

deal with an executive and law

firm a big business, they

don't want you in their office

frequently because first of all

you need sometime to setup, so

you don't want to disrupt their

also a lot of

times I have sensitive materials, so

we are going to try use this

room this is exactly as we

saw found it and

I see three possibilities for executive

purchase we are going to

try here, we are going

to shift this table over get

rid of these glass behind it

so we have this plain great wall

then I'll get down at the end

of the table we are going

to light it so, it just

really basically eliminates him and

everything else tries to go

away try pretty mean little

bit of a tunnel of light make

it look just interesting that way.

Over, here you can see

this green pillar because of the way the sun is hitting right now.

There's a just really interesting shaft of light.

I haven't met our executive yet,

so I don't know exactly how tall

he is, but I'm hoping he's going to fit right here.

That will be the best thing and

I will shoot from straight down the

wall, we'll get a chance

to have a little bit of

environmental look, and then

there is a small balcony here and

you can see there's Saint Petersburgh

and on one side you

can see Campa Bay on the

other and we'll take him

out of here, we'll put some light

we'll try with some reflector, we'll

try it with a big strobe, and

see if we can't create three portraits

in a fairly quick amount of

time because again that's

something that normally goes with

exactly portraiture, they don't

usually want to give you much

time because at times, it's expensive,

it's valuable, and they want to be in and out.

So we can try make him look,

 elegant, powerful, and we're going to do it on his face.

So let's move this table.

This environmental portrait, I'm in

a little bit of a hurry as

you remember when we came in

the room we saw three

possibilities for portraits, and

the light is going to change

because as the sun moves

that diagonal strike I have

there is going to start

to get smaller and smaller and

smaller just starting to get higher

and higher and higher, and I can't

control what the sun is doing

right now, so I'm going

to take this picture quickly before it goes away.

I check the color of the suit

I took a quick reading I

think it all works well, so

I'm on just basically a

daylight color balance because

there was a little bit of blue

from this window it's got a

slight tint on it, but I

just made a little bit warmer

that daylight I might call a

balance and I'm

just going to have him looking at the window this can be very quick.

I'm covering myself with this shot.

I know I can get this quickly,

simply, it's tied, it's clean,

it doesn't give him a lot of

environment per say, but

it's going to put him in.

We've got the green which is

a color of money, we've got

the blue with the power, we've

going to look at is going to

be rim-let it's going to be

well defined, so this is

a we're going to give

our readers our clients

entirely different view point very fast, very economically.

OK so I'm going to get you

look right up on David skip back

just a flock right there

tune the face a little bit side

ways, put your

head just down just a little

bit a little bit more.

There we go.

OK so I'm shooting slightly below

him just a fraction because

it's going to make him look more powerful, more dignified.

I'm making all

the triangles that you're seeing

in the lights, I'm making those replicate

on the patterns of

light on his face which you're going

to bring the attention destroyed to his very strong profile.

We've got him looking

away from the camera, I've left

a lot of space to put type

in if it's an annual report or

negative space if you want to put it on the wall.

File this big you

can still crop it cover be

the cover of a magazine, cover

of an annual report anything.

OK now look right back

at me I'm going

to make sure I have enough depth of

field on this the from

of his nose to the back of

his ears are all shot, this is

not a kind of a trick

picture I'm not going

for an effect for the style,

I want it to be simple powerful, clean and elegant.

So I'm using a 85,

14 lens at, you

know it's a fixed focal lens,

it's extremely sharp I'm using

it to modern depth of field

I'm using it between four five

in F8 somewhere in that

range and I think I'm going

to end up, I'm going to set

it at about F5 which means I

have plenty of depth of field to cover this.

The lights already done for me

the sun took care of that,

so a few more what I'm going

to do is move his body position

around just a little bit to

get a range of emotions, a

range of expressions a range looks,

the one that they had to

very careful with was on his

forehead, you'll see if

I tilt it up too much because

it's a hot day he's going

to have a little bit of sweat in

there, even with make up I

couldn't probably knocked at that

completely so to watch out

and I get that spectrum of highlight on

his forehead so I'm going to

do that with positioning because I

can't and again I can't move this

one and we're forefront

exactly I can't put scream out

the way I could but then

that will be a lengthy procedure, so

Loy can you get the buddy?

We're going to do a little

bit of film lighting over here

keep running this side.

well, [xxx] can you

just come and just pop a little gold light in?

Right there?

can you guys still see her right?

Fill that light shape his

side I that light right there

so you're just lighting right this

corner I'm going to

get you look right back at her

chin up a little bit.

There you go right.

Now to bring that light just a little bit more we're not getting it.

There it is, right there, you can feel it.

Perfect now I'm fighting a two different fights here.

Sorry about that.

I'm blinding you with that gold light.

What I wanted to do though, I'm having two different concerned.

I want to trap his head in that piece of light for composition.

I also don't want to go too high and make him diminutive.

That's why earlier I was trying to shoot up.

I'm going to see

if I can find something for him

to rest on so I can

put him down, still shoot out and trap him.

So I'm going to work

on that a minute but first

I'm going to do a few

exposure situations here.

Same thing with that towards her

alright so what I've done

is I've litten one side of

his face let the no

shutter go on the side

but it doesn't, there is a

flow in there because there are

no shadow but that is

okay because it make real gives

it tension it gives it

a dynamic feel, he looks

concerned today for example

the stock market not doing

so well, so we've got

financial guy for making him

look concerned the he actually

as having had to ask me do

anything differently just put them

in situation and let all

chips fall in there, let

me get you to step one step

forward for me come on come on there alright.

Lets see if this light will hit.

I'll raise this up and get

your look right on out towards

that light, just like

you're doing, just look right on

out there but I'm going to

have you hitting a little bit of

light as it

seem here I can figure how to run

this technical device called the

Window, there we

go seven years

of higher education one Window

okay shrip light up

come a little bit further for this

one, come off right

there OK now lower, come

bring up that light up

in there same thing.

I've not just change so that

background is going to work

I've made it muted and soft,

keeping the color but I'm

totally going to change the look at this picture.

has gone from broad and sterilized

to now he light is very

clean very simple, by moving

him further away from the green,

I've eliminated that green, it's

going to go dark black because the

light in this space is significantly brighter

out on the wall so its going

to completely change the tenor and the tone of this picture.

And the blue window back

there will now go a little

bit blue which will color coordinate better

with this suit, okay same

thing right out there, right there, perfect.

And can I get you to look

straight back into me David

perfect, right there will help.

Turn your face even more

towards her, look straight back out, there you go.

Okay, so we're going to

go to the next one, now I know

this is an environmental portrait and I've

basically stripped the environment out but I haven't.

I've taken the

obvious part of the environment

out and I've removed the room,

but I've left the light, I've

left the color I've left the

patterns, it's clear that

he's not in a studio, the

light doesn't look like it

was produced by a strobe, it

looks like sunlight, it looks

like he's looking at a window,

which is exactly what I wanted

it to do, I wanted it

to be simple powerful elegant

and I want it to

be quick and efficient, that was

the key to that picture, it

was quick and efficient, if I

could have done only one shot

in this room, that the one I

could have done, because it was

fast it was simple I

get me in and out and he

invited me back to do

more portraits because I used two minutes of his time.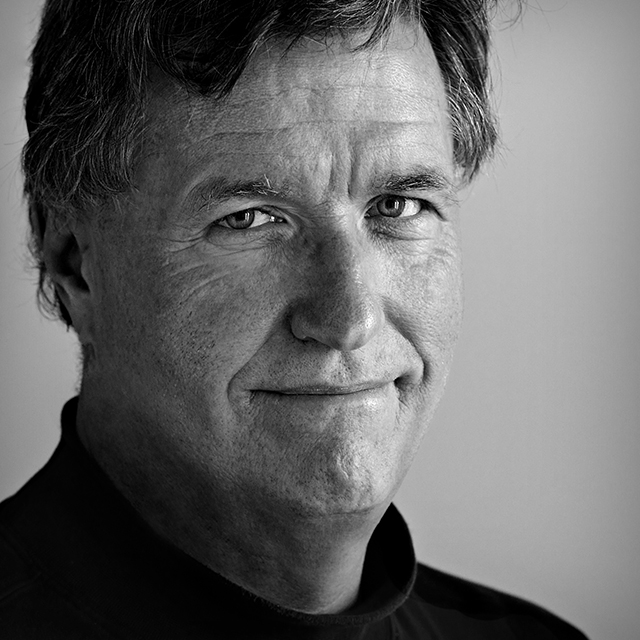 Bill Frakes
Bill Frakes is a Sports Illustrated Staff Photographer based in Florida who has worked in all 50 states and in more than 125 countries for a wide variety of editorial and advertising clients. His advertising clients include Apple, Nike, Manfrotto, CocaCola, Champion, Isleworth, Stryker, IBM, Nikon, Canon, Kodak, and Reebok. He directs music videos and television ads. Editorially his work has appeared in virtually every major general interest publication in the world. His still photographs and short documentary films have been featured on hundreds of Web sites as well as on most major television networks. He won the coveted Newspaper Photographer of the Year award in the prestigious Pictures of the Year competition. He was a member of the Miami Herald staff that won the Pulitzer Prize for their coverage of Hurricane Andrew. He was awarded the Gold Medal by World Press Photo. He has also been honored by the Robert F. Kennedy Journalism Awards for reporting on the disadvantaged and by the Overseas Press club for distinguished foreign reporting. He has received hundreds of national and international awards for his work. He has taught at the University of Miami, the University of Florida and the University of Kansas as an adjunct professor and lecturer. During the last five years he has lectured at more than 100 universities discussing multimedia and photojournalism. In 2010 he served on the jury of World Press Photo.